Friends&Family
---
Cavaliers love children and although we don't have any of our own we like to borrow some now and again! The dogs are always gentle but young children must of course be closely supervised.
| | | |
| --- | --- | --- |
| | | |
| Great, great niece Hannah with Helene | | Great niece Grace with Eden |
We have tried to influence our close family into the dog show scene with no avail until recently. My Aunt Ruby bought a pet, which had a stamp of quality, and was persuaded to show. Robert handled her to her Irish and International championship titles with ease. She did grow rather big though for a cavalier?!
Ruby, Robert and Dave with Iona. (Ch./Int. Ch. Tykesway Winter Moon)
Sometimes a litter of pups can be a bit of a handful! Throughout the years however family have been willing to give a helping hand when we needed it..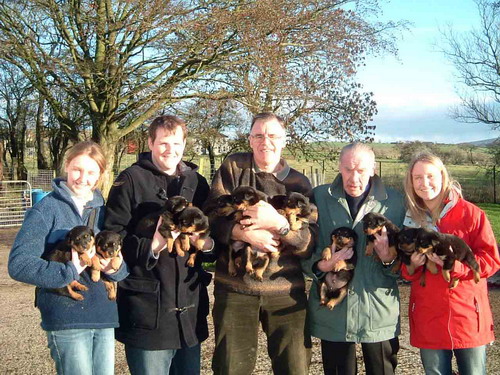 One litter of Rottweiler pups
Through our cavaliers, we have made friends throughout the world. There would be no borders or boundaries if we were all more " cavalier" in our attitudes.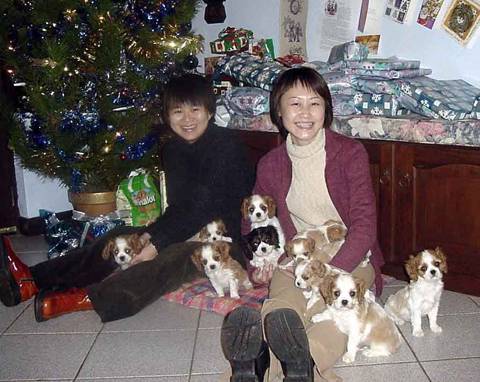 Jojo from Taiwan and Oceana from China joined us for Christmas
Cavalier exhibitors in Ireland are a very friendly bunch. Although the competition is steep, we are all convinced we take the best dogs home and the rivalry is good natured (knives are not too sharp!). We have made firm friends from all corners of Ireland who both laugh and cry with us. We support one another and are always willing to join in other's celebrations.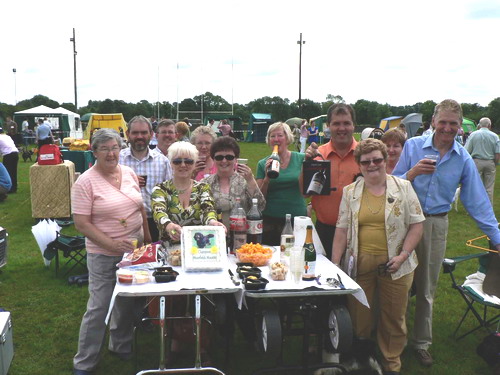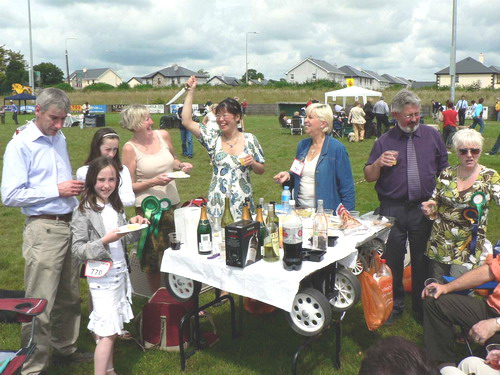 Celebrating Moy's Championship
Many have travelled to Ireland to see our dogs, visit our lovely country and enjoy the relaxing and friendly show scene here. They come as strangers usually and leave as close friends.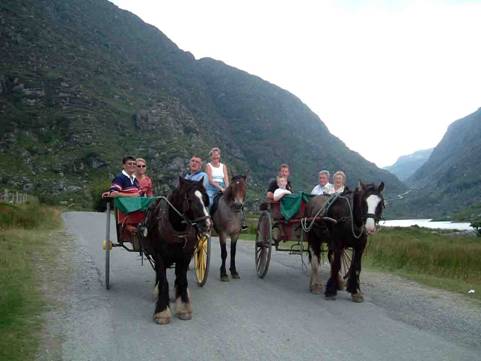 A group of friends enjoying the scenery after a show in Killarney
In March 2006 a young couple from Croatia came "on honeymoon" to visit us. We knew from first meeting that we were kindred spirits. Being talented singers/musicians, Vlatka and Neno joined our church family on their first evening with us and became better known as Vodka and Nemo! We had a wonderful time of praise together and realised too, that we shared the same dreadful sense of humour.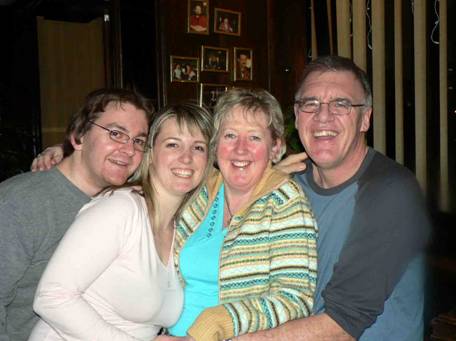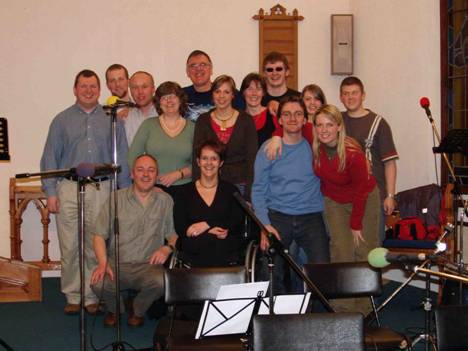 Vlatka and Neno join the Praise Group at our church
Next morning our beloved Rooster (Moorfields Marron) passed away. Sharing our grief was the next step in forming a very special bond. We have since visited each other regularly and experienced sadness and great joy together,. Not least of course was the birth of baby Laura.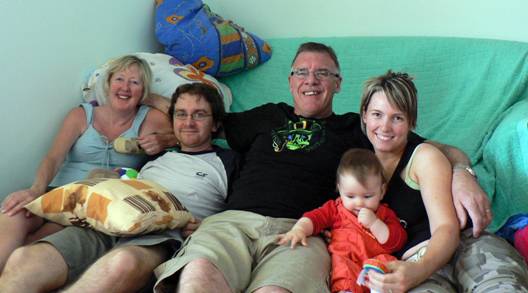 Heather, Neno, Robert, Laura and Vlatka in Croatia
Judging and visiting cavaliers we have sold has taken us to many corners. We visited the Burns family in Toronto and were surprised and delighted when their other dinner guests were Heather's second cousin and his wife who co-incidentally were neighbours!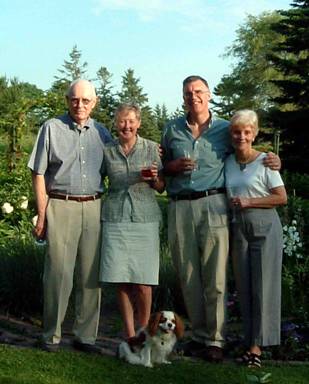 Reunited cousins after 40 years!
Another frequent exchange visit is made between us and Frauke Sass and family in Germany. They have several of our dogs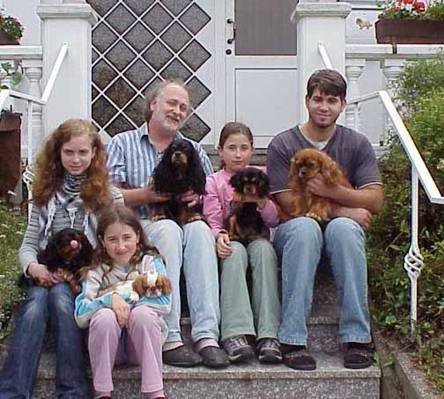 The Sass family
We were delighted when Robert handled German/Lux Champion Orinoco Or Noir at Moorfields to Best Dog at the World Show in 2004 in Dortmund. The same day we brought home our beloved Vaz and Helene.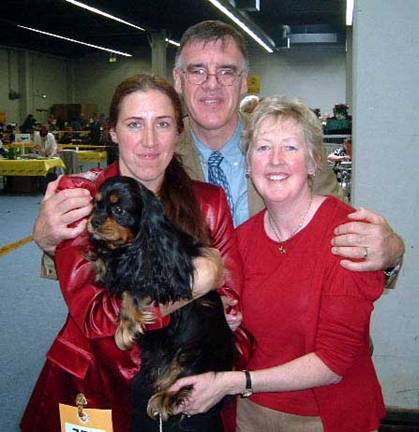 Frauke and Denis, Robert & Heather
We have made great friends in various parts of t the USA as well.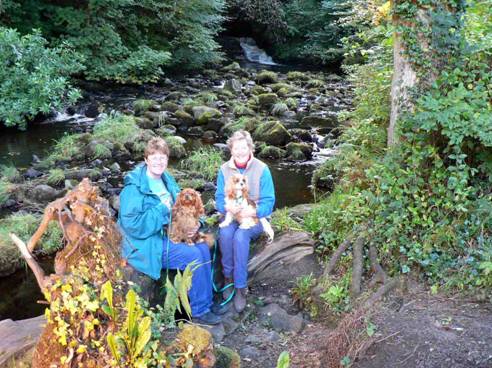 Kay Hoyt from Montana with Tati, Heather and Eden visiting the Glens of Antrim
We are very privileged to be honorary members of the Mid Florida Cavalier Club and have made many friends there. They are a fun crowd and Kala has organised a lot of fun events for us. We attended Westminster 2007 in New York where AKC Ch. Moorfields Odysee and AKC Ch. Moorfields Symbole were being shown. In addition Genny Schave had qualified for the junior handling competition. We were very proud of them all and had great fun.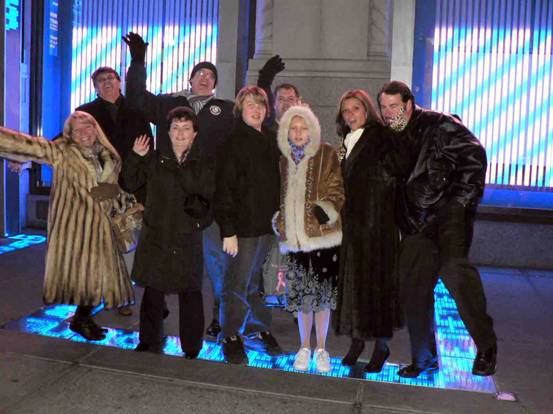 Fun at Madison Square Gardens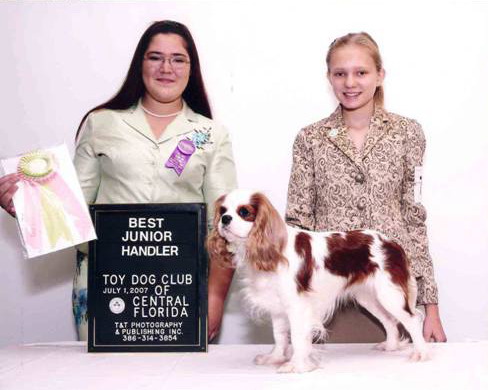 Genny with AKC CH. Moorfields Verite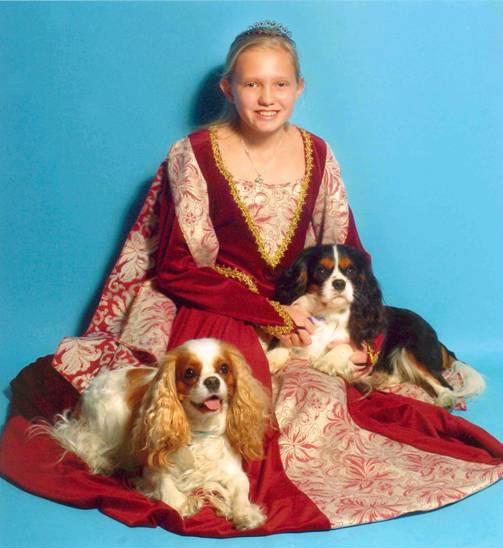 The look of The Royal Spaniels as they were meant to be:
Genny with AKC Champions Moorfields Madilyn and Moorfields Odysee
We have many other friends across the globe, and still collecting……!
.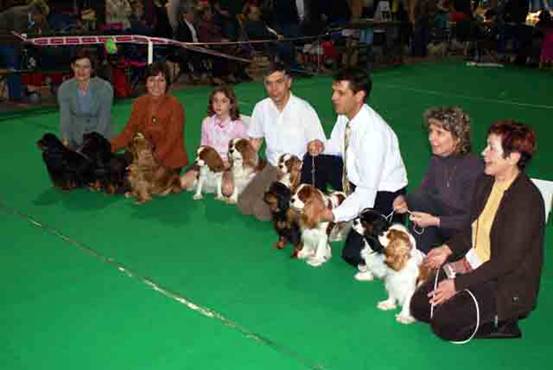 Friends in Belgium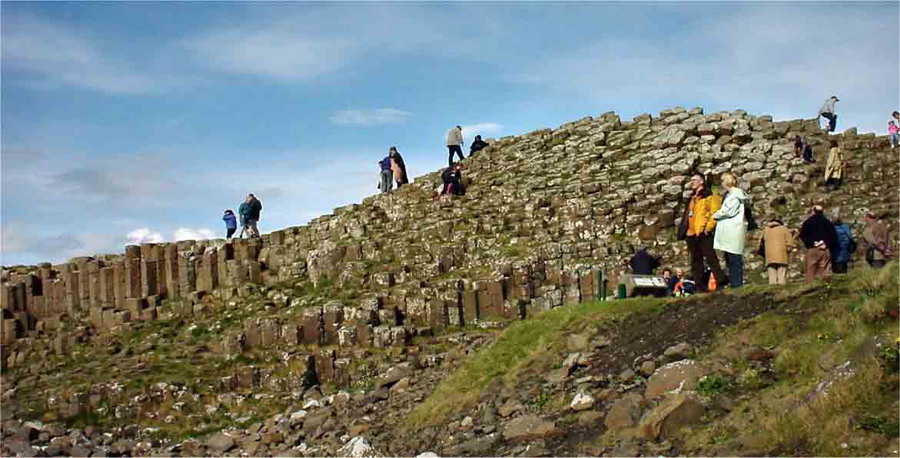 Friends from the Netherlands visit the Giant's Causeway